2019 Living the Sienna Dream V2
Plans and Sketchup project file for sale!
Sample Pages Below
PDF Plans -
Living the Sienna Dream V2
Purchase the 40+ PDF Plans complete with dimensions & cut lists, assembly and kreg & drawer schedule, links of hardware and tools used, and notes on design considerations.
Sketchup FilE -
Living The Sienna Dream V2
Purchase the 2017 Sketchup Project file complete with finished model, layered by material, and each piece is a copied component on 4x8 sheets of plywood planning your cuts for the least amount of material.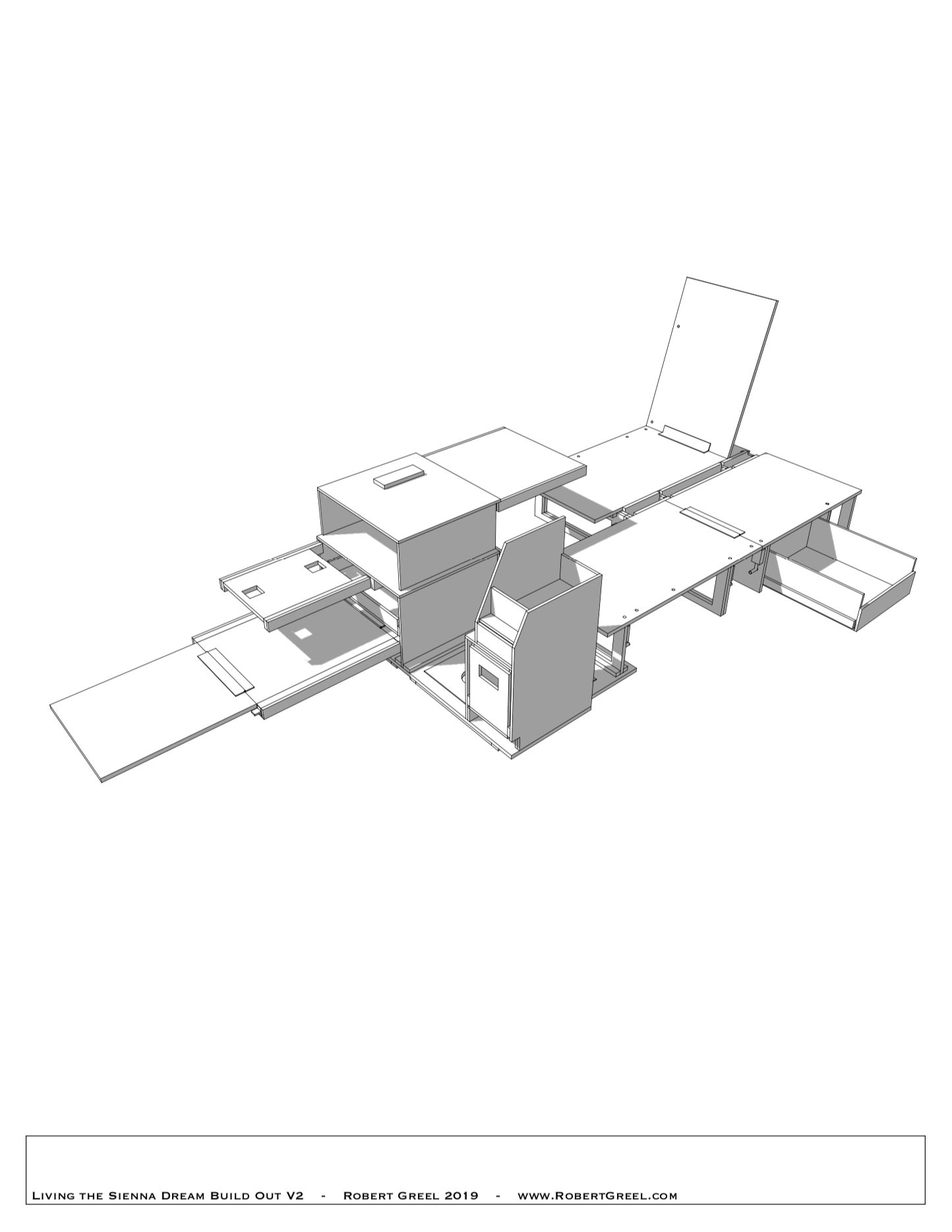 BOTH PDF AND SKETCHUP FILE - LIVING THE SIENNA DREAM
Purchase both the 40+ page PDF plans and the Sketchup Project file for a discounted price of three coffees! That's like 2% of the amount of coffee I drank to make these files.
Sample Pages from the PDF
You made a version 2?
After building the 2018 version of the minivan conversion, I wanted to create a few improvements and prioritize them in the design decisions and compromises. The bed frame is designed in two groups to allow one bed in half the van while the other half of the van is used for storage space. The bed panels are now hinged together to easily slide from the bed position to the recline position with a system of pin latches to keep them in place. The left kitchen cabinet traded storage space for both a sliding and fold out picnic table as well as a sliding desk on drawer slides for interior use.
After posting the version 1 videos, I was asked many times for plans or the sketchup file. So after many hours cleaning up the project file and many more hours creating views and exploded models, the sketchup project file and the 40+ page PDF is here. They are both intended for beginner to intermediate woodworking skill levels and the PDF set includes dimensions and cut lists, assembly instructions, material and hardware links, and a page of design and building considerations.
If you have any question about the build or the files, please feel free to reach out. I love talking about VanLife.
2018: MINIVAN CONVERSION - Build, travel, live
Part 2 - All the van-menities
Part 3 - Van life in the night life
Videos and photos of work with Tiny House Crafters of southern Vermont
The Start of 2016
I joined up with Tiny House Crafters LLC April 2016. Upon my move to the great state of Vermont, we started this build within two days of my arrival. The Rodrigue was a contracted tiny house, designed with the client for year round residence. The house is 24' long and features a full set of appliances- fridge, freezer, range, oven, propane heater and water heater, standing shower, and a compost toilet. We built this tiny house in a matter of 8 weeks, which is standard for our build schedule, but as it was my first build with the team, I could have used an extra week to get up to speed :).
Interior aesthetic
The Rodrigue features 1/4" plywood on the interior walls with bondo-ed seams, and wainscoting for the bottom four feet. Thin sheets of plywood allow the interior to be painted and repaired much like residential drywall opposed to the ever common tongue and groove wooden boards that make most tiny houses feel like the cabin we all come to expect. Having a wall material that you can cosmetically change over time opens up interior aesthetic possibilities and both the team and the client are very happy we can provide just that.
Design and Build
The Nova is the first design/build project I've participated in- mom is definitely proud. The build started mid summer and we enclosed the house's exterior. Good thing we did because we subsequently received multiple requests to repair, renovate, and finish other client's already built tiny houses. We had to leave the Nova at its half way point so we could focus on the other incoming jobs.
The Design part
Anderson, Kate, and I designed the Nova to our spec, planning to sell it once its complete. We picked the cedar stains, large clapboard reveals, dirt dark trim, and double roof line for the exterior. We also built on a 24' trailer and cantilevered 2' further for the split level bedroom, raised above a storage area for the interior and exterior. The Nova is a practice in storage with multiple places for real world living/storage. We find there are plenty of tiny houses on the market that look beautiful to be in and we want to ensure storing your clothes, cleaners, mud boots, brooms, winter bedding, and even your kitchen drying rack have a year round home.
2016: Justin and Dani's Rennovation
Common Problems
A lovely couple from the farm down the street lives in a tiny house they bought in 2014. Its cute from he outside, but measuring at only 18' long, the interior space takes a patient couple to make a happy home. The 12/12 roof slope is a common gable roof build, but leaves little room for more than one to sit up once you're on your mattress. Tiny House Crafters were asked to install dormers into the roof as well as help solve another common issue in tiny houses - condensation.
Condensation
Common to tiny houses are issues with condensation. It doesn't take much more than two humans and a dog to fill the 1,500 cubic ft space with moisture that needs to be cycled out, never mind cooking and showering. There were signs of mold in the roof sheathing and rust in the aluminum roof framing that deserved attention and a solution. Within the budget was spray foaming the ceiling to create a moisture tight layer above as well as installing an ERV - an air exchanger that retains the heat and pushes it back into the house. These two approaches have helped reduce the issues of condensation and is currently a design spec we don't built without.
The Unexpected
Leading projects is a responsibility in scheduling not faint for the heart. Of course as soon as we open up the roof, it turns out the entire house was framed in aluminum and the exterior siding is not vinyl, its steel. We knew the second part of that puzzle before we built, but those minutes add up into hours of unexpected solutions. We certainly got right in there with a grind wheel and metal sheers to install our dormers and ERV (air exchanger to deal with the condensation) and the finish product was a cute house with a livable loft level.
2016: Bauer's Rennovation
The roof goes up?
Yep, it does. Bauer had a trailer spec'ed and framed with a second floor portion on pneumatic pumps. Hit a button and the ceiling raises another 3 to 4 feet, revealing a second interior knee wall. That knee wall we sided with sheets of aluminum and the appropriate water proofing behind. We also gave a not so great spray foam insulation job a hair cut on the interior and installed paintable 1/4" plywood and bondo-ed the seams. Bauer and a carpenter built the house as it was when it was delivered. She continues to finish the house after our contract, installing appliances, amenities, and finish paint.
Flat surfaces are a no no
The exterior of the revealed second floor knee wall was bear and without any windows installed. A team member and I spent the better part of three weeks applying ice and water shield, metal roof caps, and aluminum sheathing to the exterior. Then the window panes were delivered on site, but they were without any casing. We cut 1/4" PVC trim and with a lot of silicone, created water tight frames for the glass to push up against, and finished the interior casing to keep the glass in place. This installation was certainly a bear and you can imagine at every inch I asked myself, "is water able to get past here?" And no.. is the answer. Not anymore :).